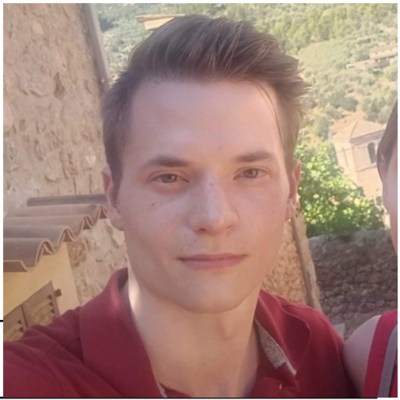 À propos de Matthias Van Den Dooren:
Software engineer with a passion for Go(lang) (and Rust). 
Expérience
Nexuzhealth 
Golang Backend Engineer                                                                           Dec. 2021 – Present
Nexuzhealth is the market leader in medical software for hospitals, doctors and nurses in Belgium.
As a backend engineer, I design, troubleshoot, discuss and develop high performance, sensitive code.

Working closely with the government (eHealth)
Highly sensitive data (patient records) which need to be handled with care.
Performance is key, 40 hospitals using our services, over 1 million users. All cloud driven.

Continuous innovation, using technologies such as gRPC, the full GCP stack, microservices.
On-call duty, available 24/7 to provide follow-up and debugging for hospitals, doctors and nurses.
Faktion 
MLOps Engineer                                                                                             June 2021 – Dec. 2021
§  Faktion is an AI company that delivers custom AI solutions for businesses.
§  Setting up cloud-based infrastructure, automating deployment pipelines, monitoring and troubleshooting
deployed models, and maintaining model version control
§  Kubernetes, Kubeflow, Terraform, Grafana, MongoDB, Python, Bash, Git, Azure stack, CI/CD
Antwerp
Metamaze (daughter company of Faktion) 
MLOps Engineer                                                                                              Feb 2021 – June 2021
Main goal of the internship was to implement KFServing (bleeding edge technology)

Successful implementation, reducing monthly hosting costs substantially whilst increasing uptime, performance and reliability. 
Contributed to KFServing
Éducation
Erasmushogeschool Brussel
BSc Computer Science (Graduated Cum laude.)
Professionnels en concurrence avec Matthias
Professionnels du même secteur Ingénierie / Architecture que Matthias Van Den Dooren
Professionnels de différents secteurs à proximité de Brussels, Arrondissement Brussel-Hoofdstad, Brussel-Hoofdstad
Les autres utilisateurs qui s'appellent Matthias
Emplois près de Brussels, Arrondissement Brussel-Hoofdstad, Brussel-Hoofdstad
---

sogent

Auderghem, Belgique

À temps plein

€30.000 - €45.000 par an

Samen vorm geven aan Gent. Daar gaan we bij sogent elke dag met veel goesting en expertise voor. Als stadsontwikkelingsbedrijf werken we aan een stad waar het aangenaam wonen, ontmoeten en werken is v ...

---

Als customer service executive kom je terecht in een logistiek dienstverlenend bedrijf in Gent. Je hebt dagelijks interne en externe contacten, administratie en operationele taken. · Je dag is zeer g ...

---

Stegmann Belgium (BVBA)

Flemish Brabant, Belgique

Onze afdeling 'Stegmann Medica Solutions' zorgt voor de perfecte match tussen kandidaat en vacature die een medische opleiding vereist. Voor een klant van ons te Leuven zijn we op zoek naar een verple ...