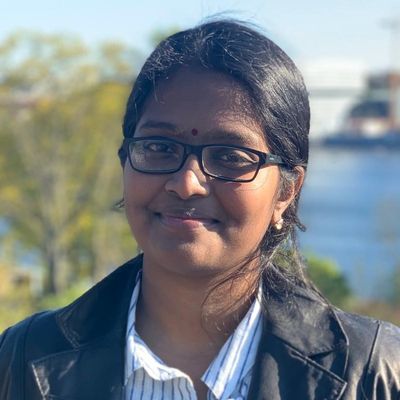 À propos de Nivedha Elango:
As a master's graduate in integrated water resource management from Anna University (India), sustainable solutions to water management projects have always been of great interest to me. My master's thesis focussed on adaptation strategies to climate change by performing a statistical analysis. I have also worked on several spatial analysis exercises during my entire tenure with a special focus on watershed delineation, land uses land cover analysis and river basin management. In addition to the academic knowledge, I had undergone an internship with Hand In Hand, a non-profit organization, where I had a great experience exploring the GIS tools and also relating it to the field by undergoing projects such as well inventory studies, upper watershed restoration, morphometric analysis of the drainage pattern, rainwater harvesting at the watershed scale. The major deliverable was to achieve effective water resources management at the watershed scale.
Expérience
2021-2022        Junior Innovation Project Engineer, Hydroscan, Belgium       Hydroscan, Belgium
Real-time flood forecast modeling.
Pre-processing input data in GIS.
Simulation of the model using python scripts and post-processing.
2019-2021        Research Scholar                                                    Anna University, India
Exploring the vulnerability of the natural habitat and coastal biodiversity of the east 
coast of India to extreme weather events using InVEST model. 
Publication: Ecosystem-based disaster management planning for the eastern coast of India. 
Journal of Coastal Research, 39(1), 83–89. Charlotte (North Carolina), ISSN 0749-0208.
Presented as a speaker in several webinars on water and wastewater management, disaster risk reduction
2020-2020        Research Intern                                  Global Water Partnership, Sweden
Supporting three different teams (Sustainable development goal 6, Agenda 2030 

         Assistant Professor                                                   Anna University, India
and Integrated Water Resources Management toolbox, Science Innovation Policy 
Platform in Irrigated Agriculture, Water change makers) at Global Water Partnership.
Civil Engineering department - theory and laboratory sessions.
Involved in department research activities, working on a proposal - Investigation of Soil characteristics and Water quality of Adyar River shed, South Urban Chennai due to the Flood 2015.
Éducation
Ecosystem Services: A Method for Sustainable Development, University of Geneva, April 2020
Programming for Everybody (Basics of Python): University of Michigan, April 2020
Ecology: Ecosystem Dynamics and Conservation, American Museum of Natural History, May 2020
Large Marine Ecosystem: Assessment and Management, University of Cape Town, June 2020
Introduction to Probability and Data with R programming, Duke University, April 2021
Professionnels du même secteur Ingénierie / Architecture que Nivedha Elango
Professionnels de différents secteurs à proximité de Brussels, Arrondissement Brussel-Hoofdstad, Brussel-Hoofdstad
Emplois près de Brussels, Arrondissement Brussel-Hoofdstad, Brussel-Hoofdstad
---

Smals

Sint-Agatha-Berchem, Belgique

À temps plein

€50.000 - €80.000 par an

Meer dan 2000 professionals omarmen bij Smals elke dag de toekomst door zich in te zetten voor ICT for Society. Hoogtechnologische ICT-systemen zorgen voor meer efficiëntie in de belangrijke sociale v ...

---

Unique

Bruxelles, Belgique

Temporary

Omschrijving: · Pas afgestudeerd en veel goesting om met jouw eerste job te starten? Of net een eerste ervaring erop zitten en was het niet helemaal jouw ding? · We want you in our team Wij hebben ee ...

---

Synergie Belgium NV

WILRIJK, Belgique

À temps plein

Heb jij een passie voor de automotive sector en ben je een gedreven monteur? Lees dan zeker verder. · Als monteur sta je in voor de eindmontage van interne transportmiddelen. Je hebt kennis van hydrau ...